The last three or four reps is what makes the muscle grow. This area of pain divides the champion from someone else who is not a champion.

Arnold Schwarzenegger
Due to my hobbies and extracurricular activities i sometimes get in situations that are disadvantageous to my physical well being. Let's just say i have my number of sprains, broken bones, and metal parts in my body. Which in addition to being a fan of Dr. Norbert Wiener's work i also believe in Cybernetics. That said over the past number of years i have had recurring issues with neck, back, shoulder, and hip chronic pain due to what i would term having too much fun whether it be martial arts, lifting weights, surfing, snowboarding etc. Through Lisa Maki (click her name for her story on her trials of pain) i was introduced to Marc Dubick, MD who is a Pain Medicine Specialist in Charleston, SC, and has over 46 years of experience in the medical field. He graduated from the University Of Kentucky medical school in 1975. He also happens to be a really amazing human being. Here is a picture of Dr. Marc Dubick and Your Author: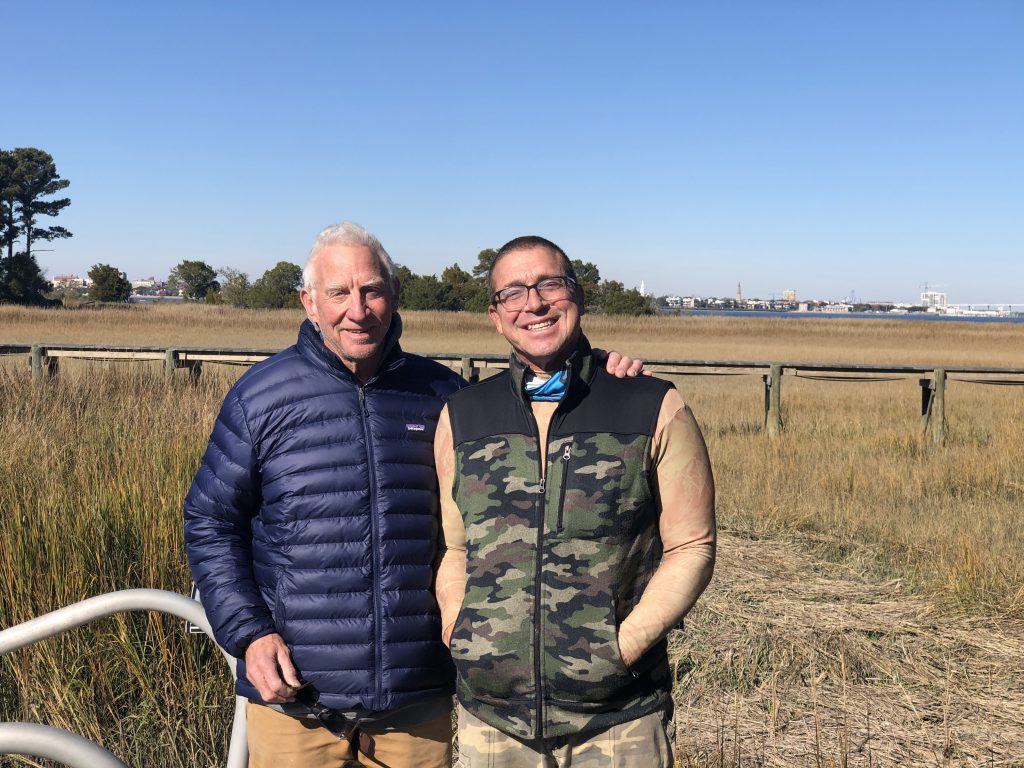 I started just as Lisa Maki did with injections of recombinant human growth hormone and testosterone to the painful and dysfunctional areas in my body that would otherwise have had to be operated on or replaced. Over the years while these injections are extremely painful they eventually help and heal the affected areas. i prefer the short term pain over the complexities of evasive surgery.
Dr Dubick has since retired and handed over the reins to a great doctor (and human) Dr. Todd Joye who is a partner at interveneMD. He is continuing the rGH therapy and it is proving as expected just as effective. This brings us to our current reason behind this blog. He has employed a rehabilitation – human performance machine called Vaspar.
Brochure of VASPAR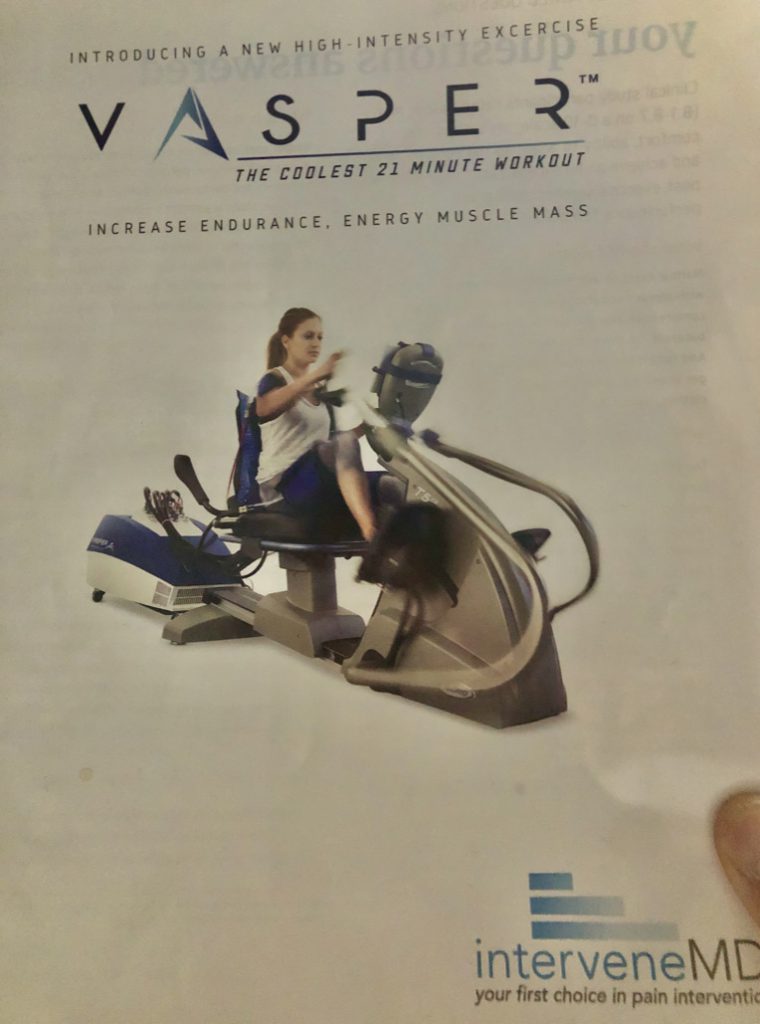 As it turns out professional sports teams and the military have started utilizing this machine with astounding results. To understand the physical benefits Vasper provides, they conducted research backed by supporting literature. In order to study its impact effectively, Vasper conducted a safety study, which verifies Vasper is safe and easy to use for most. Dr. Joye told me when he took delivery he had been working with the creator of Vaspar and Vasper users talk about increases in energy and strength. In a small study, they observed significant increases in testosterone as a result of Vasper use. Though there may be other factors at play, it is likely this testosterone boost explains the improvements in performance after Vasper use, which was discovered in a different study. Combined with its low impact physically and physiologically, the anabolic hormone increase with Vasper use is an unbeatable combination for anyone who wants to increase their physical performance. It is well known that testosterone is a key hormone that is involved in regulating muscle growth, bone density, fat metabolism, and mood in both men and women. The Vaspar folks explored this hormone with five professional baseball players in 8 Vasper sessions over 2 weeks. They data showed an 80% increase in free testosterone levels, with an average increase of 132% across all participants.
Purported levels of free testosterone level increase:
Given how much i pursue all things in human performance for mental and physical edges i was skeptical. However i am open to trying (almost) anything once if it shows the benefits of performant edge. Thus i went for my first 21 minute session.
Your author doing his best duck face: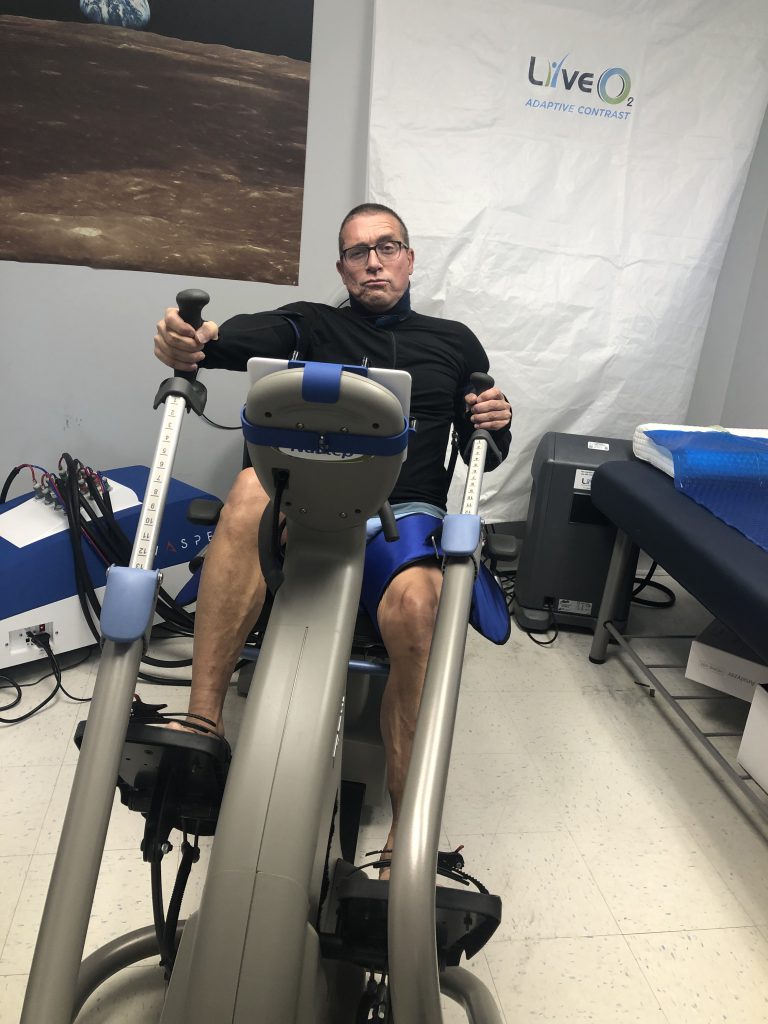 In preparation, you get suited up in cuffs for your thighs, biceps, and neck. You train barefooted as the pedals are also supercooled. The thing that attracted me to the Vaspar workout was that it is low impact. The principles behind Vaspar are three areas: compression, cooling, and interval training.
Compression and cooling create the effect of high intensity (anaerobic) exercise without the major time soak or muscle damage. Compression also allows lactic acid to accumulate to your muscles which drives signals to your brain requesting higher amounts of human growth hormone and testosterone to accelerate repair and recovery. The cooling also increases oxygen to the muscles.
For interval training, it is obvious to anyone who has trained that is the way to go as far as i am concerned to generate high amounts of caloric burn in a shorter amount of time with higher amounts of lactic acid buildup which create a feedback effect.
The system can be customized for limb reach and throw as well as numerous analytics such as pulse oxygen, pulse rate, wattage burned etc.
So what happened?
The staff at interveneMD set the system to slightly higher than intermediate. Well dear reader it blew my mind in the first and second sessions. In 21 minutes it felt like i had been deadlifting substantial weight with sprints in between sets for at least an hour. Which i have done many times before with an extremely sore body afterward. The workout was very intense and exhilarating.
To my amazement, i had zero pain and in fact, greatly reduced pain probably to the endorphins released as well as the amount of HGH and testosterone.
My favorite part is after the interval workout you lie on a super cooling mat for 6 minutes. Nighty night bunny rabbit!
For anyone who is into human performance or needs rehabilitation of any means i highly recommended finding a facility that has one of these for use. As a note health insurance does pay some portion!
In full transparency i have no affiliation with interveneMD or the makers of VASPAR. This blog was written in order to amplify others and the fact i was totally amazed after so many years of searching for novel ways to workout.
Once again here are the links
Here is a great reference to Dr Marc Dubicks paper on rGH:
"Use of localized human growth hormone and testosterone injections in addition to manual therapy and exercise for lower back pain: a case series with 12-month follow-up."
Hope everyone is safe!
Until then,
#iwishyouwater
Muzak To Blog To: Johnny Smith – Kaleidoscope